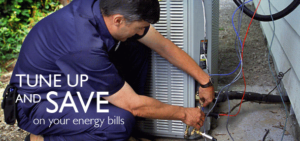 As a homeowner who has invested in an air conditioning unit in your home, it is of paramount importance that you know the impact of an inefficient AC. The power bills double and the frequency emergency breakdowns become so frequent. A poorly serviced AC system rarely lives past its 10 year-mark which is very frustrating considering the cost of replacement. This is the reason why you should employ the services of a professional AC contractor to provide tuning services for your system.
Air Conditioner Tune Up
An AC tune up entails:
Checking Thermostat Calibration – In an AC unit, a thermostat is one of the most sensitive components. It can either make or break your entire unit. One of the common problems that make the thermostat insensitive and not to work right is dirt. The calibration of the thermostat is sensitive to dirt and may make the entire system overheat thereby wasting energy and even exposing some of the AC components to extreme heat. The technician should ensure that the dirt is cleaned up and the calibration has been restored to the normal level.
Monitoring Refrigerant Pressure – Whenever your AC unit starts to experience changes in temperatures and pressure, there must be a problem somewhere. Using specialized equipment, the contractor should check for refrigerant leakages and seal them.
Inspection and Cleaning of Condenser Coil – The condenser coil is the center of activity when it comes to cooling operations. If it becomes dirty because of coming into contact with polluted air, it may not work as expected. The professional assesses the condenser coils and clean them using a special solution and equipment to bring it back to a working position.
Inspection and Cleaning of the Blower Motor – Blower motor should always be clean to operate effectively and efficiently.  This is because of the fact that a tenth of an inch of dirt can cost more than 20% in AC inefficiency.
Other AC tune up services include:
Clean condensate drain
Lubricate moving parts as required
Test condensate pump
Test starting capabilities
Measure amperage and voltage
Check superheat and sub-cooling
It is time you stopped suffering in silence due to inefficient AC units that only rob you money through repairs and escalated power bills. Get a reputable and reliable HVAC contractor in your area to handle your tune ups and enjoy the comfort of your home without spending so much on repairs and escalated energy bills.